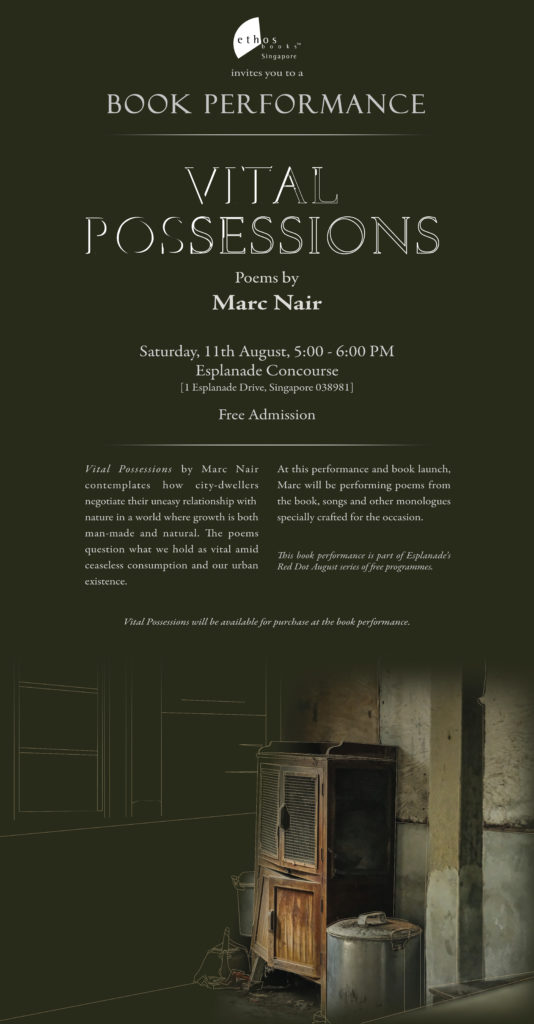 Vital Possessions is my ninth (ninth!!) book of poetry. The roots of this book came about through the Gardens by the Bay residency in 2015. I had the opportunity to spend hours walking and thinking in the grounds of GBTB. Initially, I wasn't enamoured by how planned and fake the gardens seemed to be. I am more a fan of wide-open moors and natural forests. But gradually, I came to see the gardens as that perfect synthesis between nature and nurture. It is, in many ways, the epitome of our garden city. The Supertrees are like our skyscrapers, inhabited by a variety of human flora, and the grounds of the garden are much like our planned estates, neatly segmented while still keeping a semblance of nature and enough variety to keep us sane.
The poems in the book began to be shaped by this overarching theme and along the way, they expanded as I explored and visited other green spaces. I also considered the way we interacted with our environment. Along the way, the title of the book morphed from Naturebiotics to For Yours Is The Garden to Vital Possessions. It became a treatise on what we believe and hold dear to in an age of uncertainty, where our faith is frangible and our knowledge fractured.
The book reads like one long narrative and dips in and out of the following themes: our relationship with nature and natural spaces, how technology interfaces with our lives and the votive value of nature. Haiku accompanied by photographs intersperse the poems. They function as pauses, a breath of image; quirky and quiet reminders of the unnoticed quotidian.
Ethos Books, my publisher, has been very patient with the manuscript over many moons of editing and piecing together the book. The cover proved to be especially tricky, because with such a title, it was truly difficult to find an image that would evoke a similar state of feeling.
The book launch is at the Esplanade Concourse on 11 August, at 5pm. I will be doing something rather different, and invite all of you to come and join me as Vital Possessions finally emerges into the world.